hemp seed oil + activated charcoal
Regular price
Sale price
$17.99
Unit price
per
Sale
Sold out
250g | 8.82oz
View full details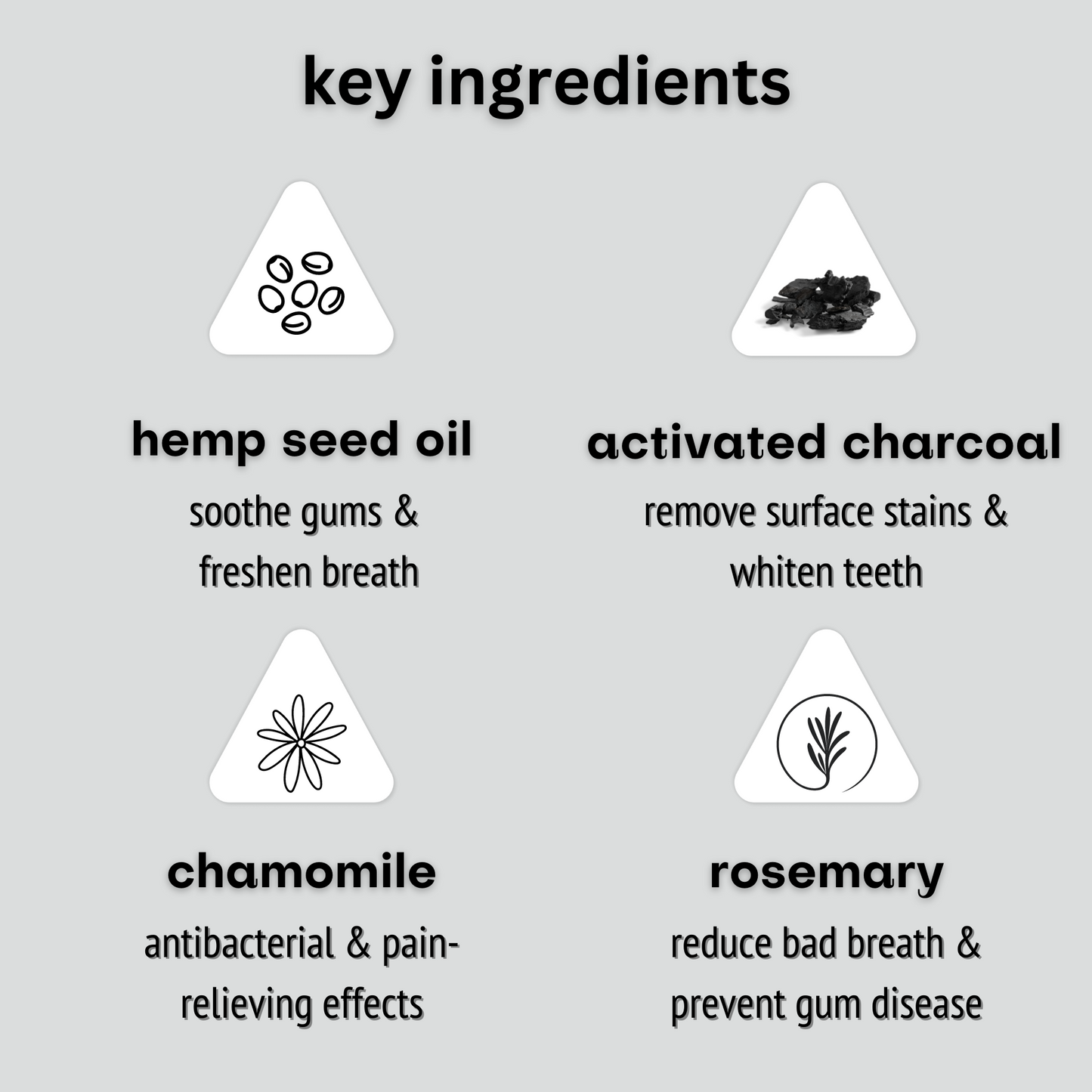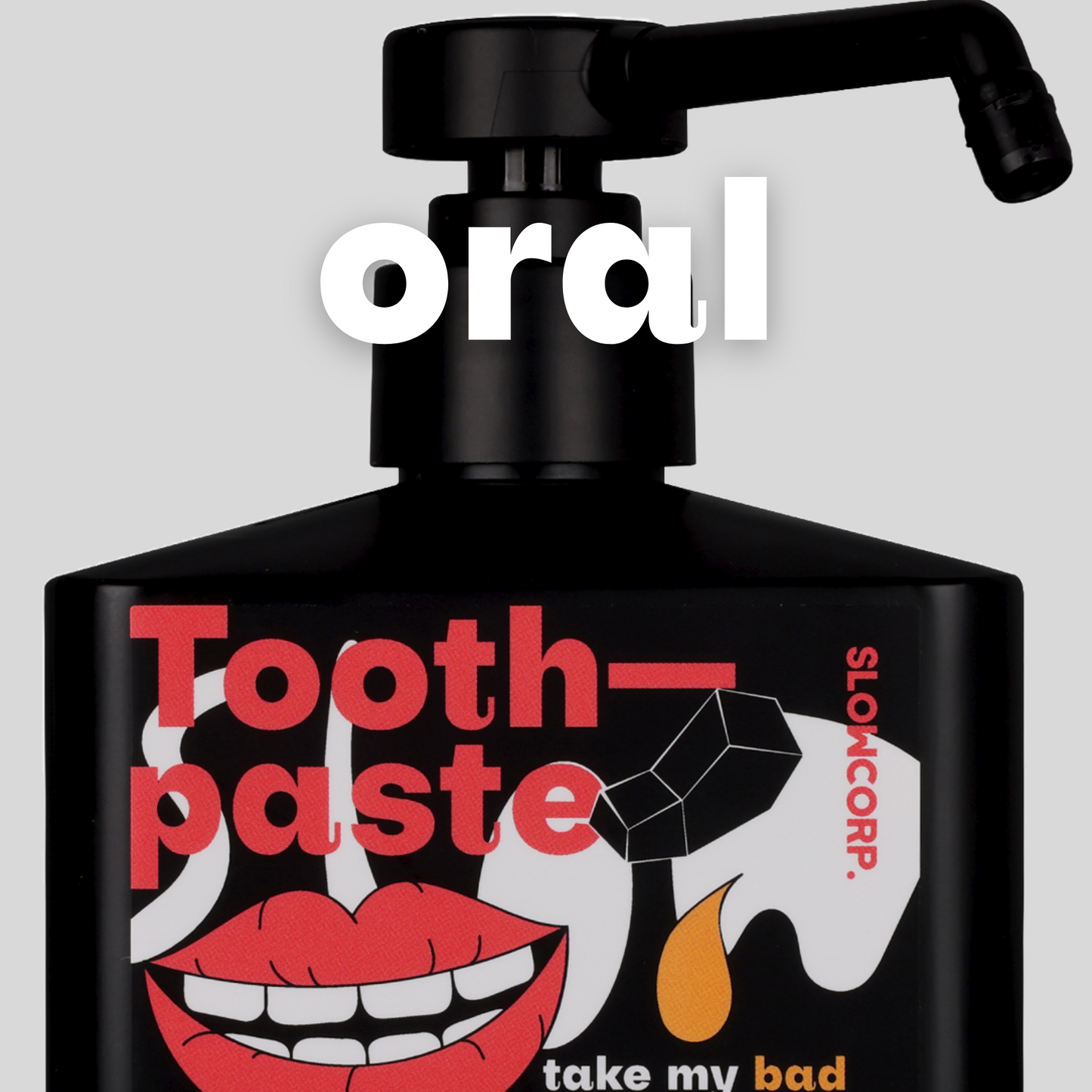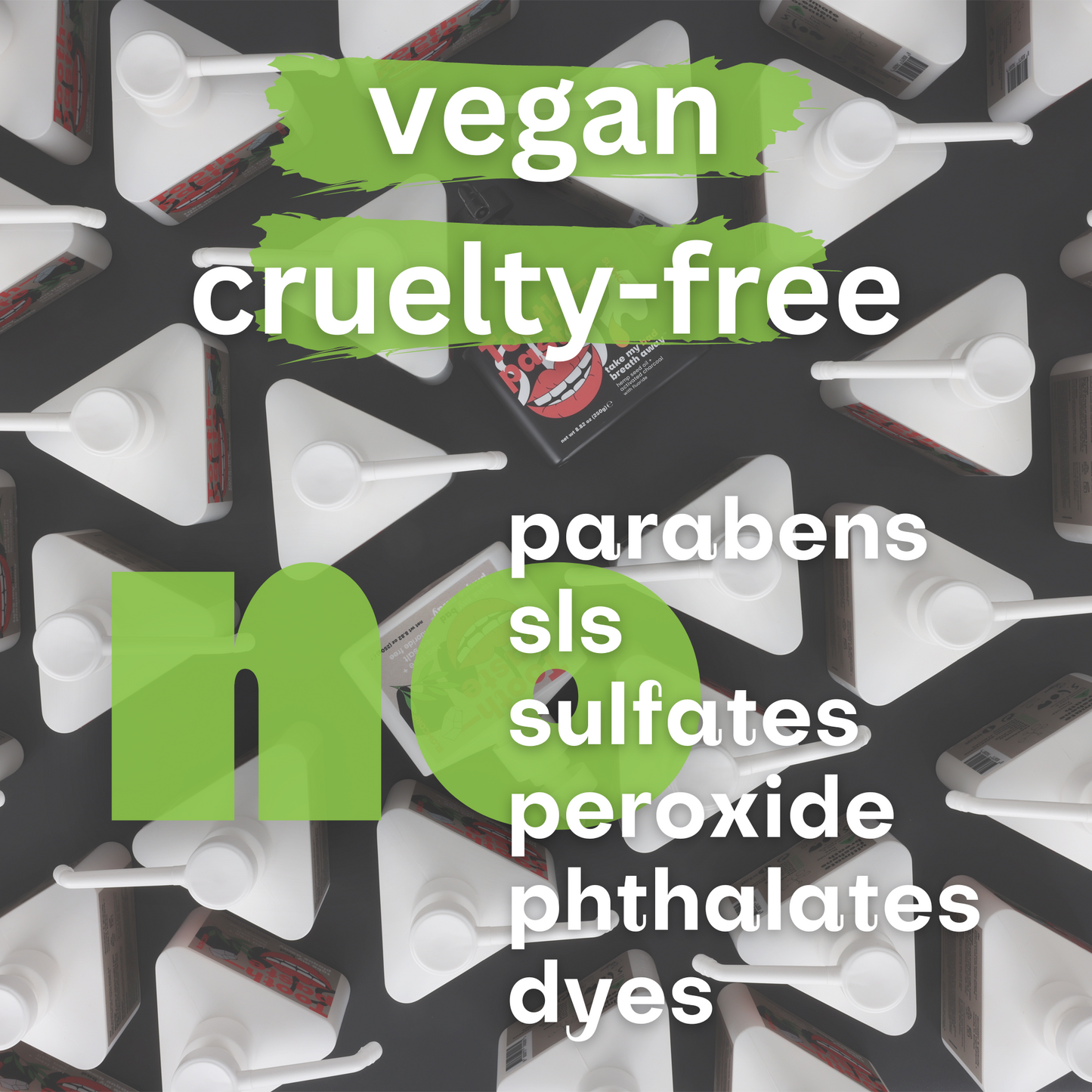 take my bad breath away
vegan, no animal tested, plant-based ingredients
* brush teeth thoroughly preferably after each meal or at least twice a day, or as directed by a dentist or physician.
* use only a pea sized amount and supervise child's brushing and rinsing (to minimize swallowing).
* children under 2 years ask a dentist or physician.
hemp seed oil

activated charcoal

fluoride 1000ppm

clean ingredients
active ingredients :
sodium monofluorophosphate 0.76% (total fluoride content - 1000 ppm approx.)
inactive ingredients :
sorbitol, purified water, hydrated silica, glycerin, xylitol, xanthan gum, sodium cocoyl glutamate, stevia rebaudiana extract, cocos nucifera (coconut) oil, cellulose gum, menthol, mentha spicata herb oil, rosmarinus officinalis (rosemary) extract, centella asiatica extract, scutellaria baicalensis root extract, camellia sinensis leaf extract, calendula officinalis flower extract, glycyrrhiza glabra (Licorice) root extract, chamomilla recutita (matricaria) extract, charcoal powder, cannabis sativa (hemp) seed oil
*keep out of reach of children under 6 years of age.
*if more than used for brushing is accidentally swallowed, get medical help or contact a Poison Control Center right away.
whiter, brighter smiles
the addition of fluoride in our toothpaste also helps rebuild or remineralize weakened tooth enamel which is important for diminishing tooth decay and cavities.
strengthen tooth enamel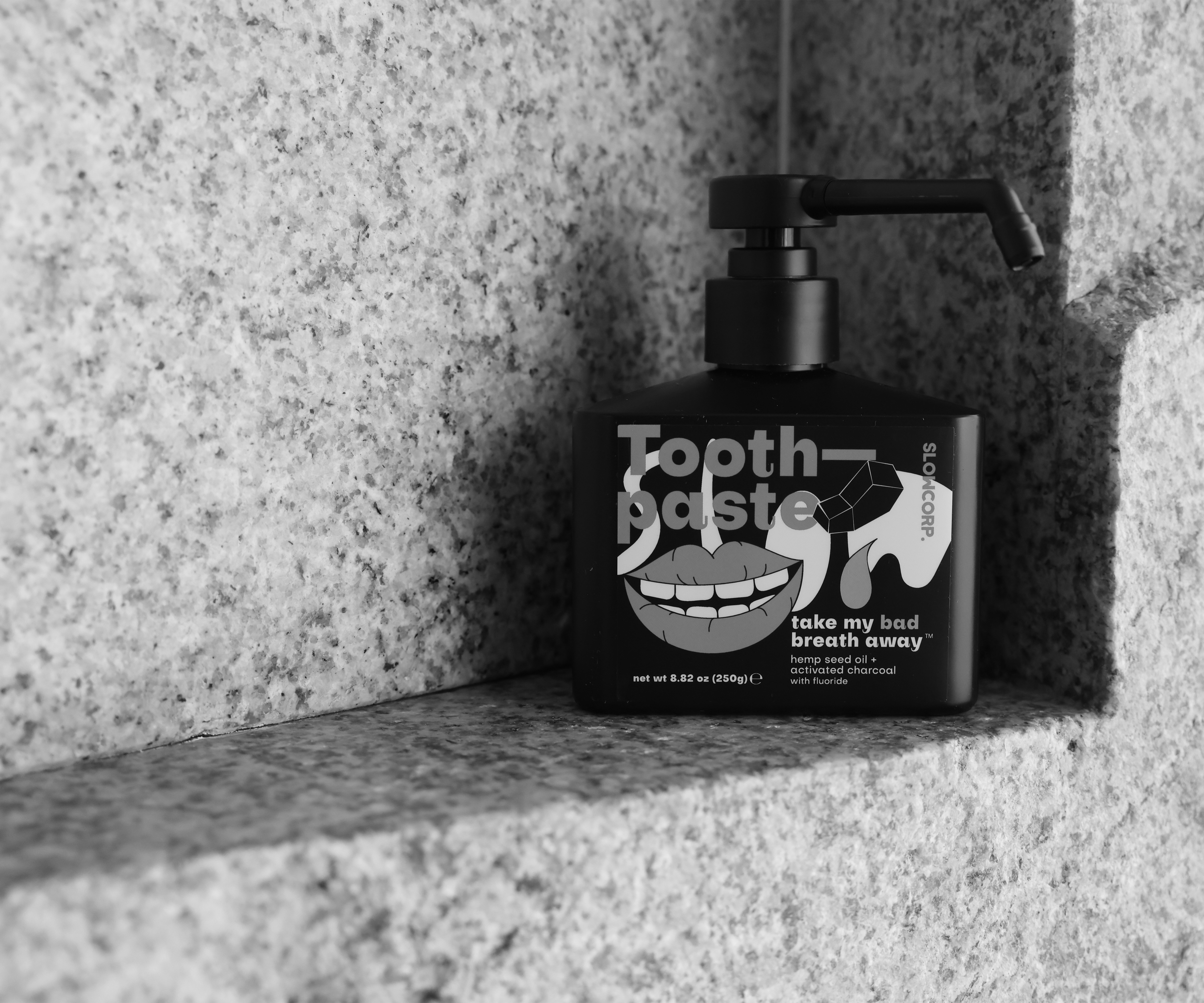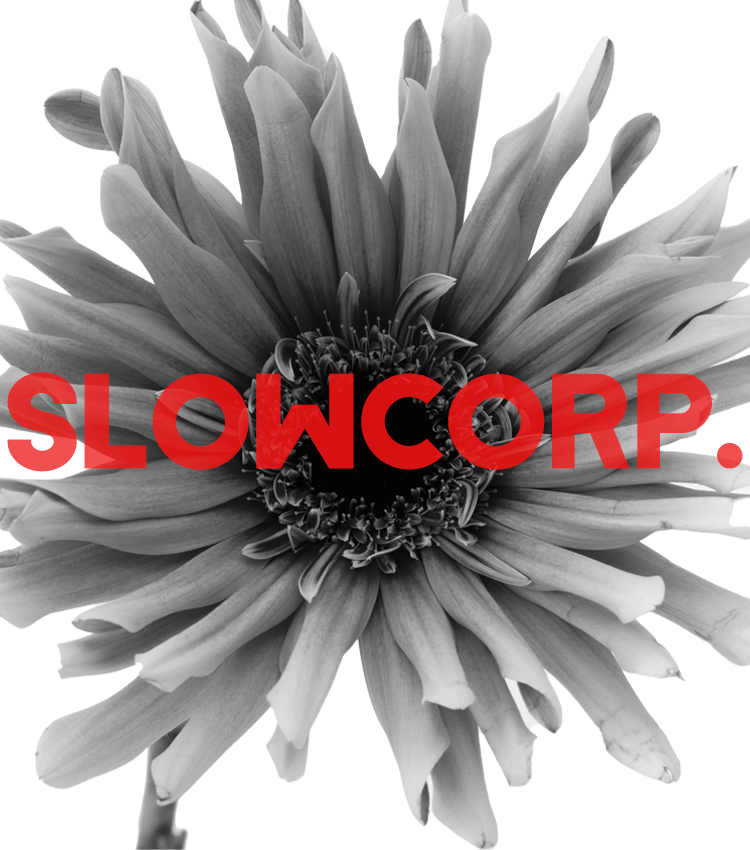 reviews

March 12, 2022

Cool Dispenser and Fresh Toothpaste!!, Here's my list to simplify everything down! Positives: - Little to No Flavor: The flavor is little minty and just makes my entire mouth feel fresh! - Good Dispenser Mechanism: Provides an ample amount of toothpaste! - Nice Container: I like it better than the tube! - Vegan! - Cruelty Free! - No Harmful Additives: No additives like sulfate, artificial sweetners, peroxide, and much more. Negatives: - None! Final Thoughts? This toothpaste is great! There's honestly not much more to say!
Rookie M.
March 23, 2022

Leaves my teeth feeling clean!, I got this toothpaste as I also tried another one of theirs but didn't like the flavoring. This charcoal one is great and leaves my teeth feeling clean. I like the pump vs the tube as I can't stand the mess it makes in the cap with regular toothpaste. This gives me a fresh taste and my teeth actually look whiter than before starting.
ShiningHiker
April 3, 2022

I love that this charcoal toothpaste comes in a pump bottle. The paste is almost a gel consistency and can be a little tricky to get completely on your brush. The flavor is good and I love how this feels on my teeth. I can get a good brushing that leaves my teeth feeling smooth and clean. My mouth tastes and feels fresh and clean.
Amavon
January 4, 2022

Really good toothpaste with charcoal effect, My toddler thought I was trying to eat black paint, since he painted his dinosaur's mouth with black paint that looked just like this, and tried to stop me from putting this in my mouth with flailing arms. Other than that, it was all good. SLOWCORP. Fluoride Toothpaste with Activated Charcoal and Hemp Seed Oil comes in a little triangular tank that's very stable on the countertop with a cool pump that extends far out, making it user friendly. The paste is soot black, and it stays dark and grayish through brushing, which is funny/cool/gross/scary, totally debatable. It tastes awesome, feels totally refreshing, and rinses out with a perfect aftertaste, no debate there. The part I was skeptical about is how long that lasts, as I've had natural toothpaste not last as long as the big name regular pastes . This one lasted. Very well. I think it's because while it has all that other stuff like charcoal and hempseed oil, it also has the fluoride, so it does all the normal stuff pretty well too on top of additional whitening. Good stuff.
OneCent
22 - 10 - 2022

Another awesome toothpaste from SLOWCORP. I have other toothpaste product from this company and since it was sooooo good, I bought this to give it a try. Surprisgly it really does the job! My mouth is fresh and great looking package is a plus!
John